Identifying a Data Jack
There are many different types of data jacks, and at times identifying them can be hard. In the section below we have pictures of some common types and guidance on how to determine the jack designation.
The photograph below depicts a face plate with one telephone and two data jacks in room 615E. On top of the face plate should be a hand-written or printed label identifying the face plate and jacks on it; it is typically the room number followed by a letter, 615EB in this case. If this identification is missing or unreadable, please describe the location in the notes field and if possible indicate the jack with a post-it or similar note. There may also be dashes (615E-B) in the designation; if so, please include these in your request.
Grey bezels indicate telephones -- we cannot connect your computer to these. Only orange bezels are for network connections.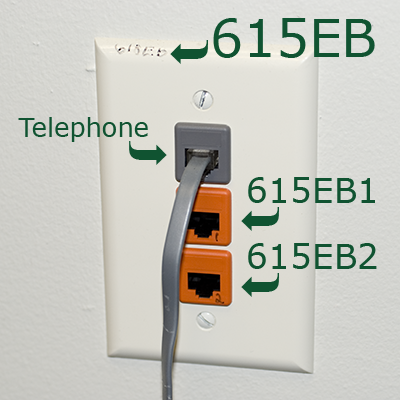 The picture below depicts an old style telephone and data jack. In some buildings these are obsolete with the related infrastructure demolished during renovations; it is possible these jacks cannot be activated at all. If they are usable, there should be a designation written on the jack, such as 618BA in our example. These jacks can only support one network connection.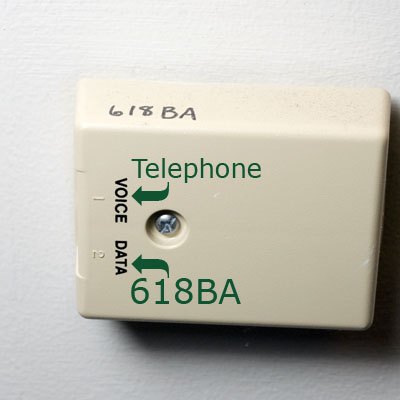 This image shows a jack where the designation has faded and become unreadable. In cases such as this please explain how to find the jack within the room and give any other additional guidance in the notes field of the request form.