What is Information Technology Communications?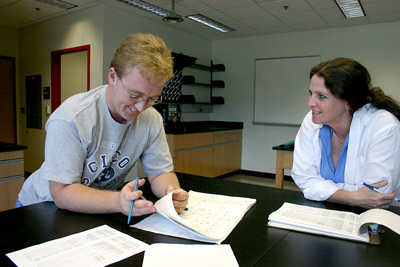 Designing and maintaining a computer network has evolved into a very complex task. Yet, at the same time, the importance of local networks (LANs) and the Internet has drastically increased. Gone are the days when email, electronic databases and instant messaging were nothing more than conveniences.
Scope
Our most visible task is providing users with a place to plug in their computer. Once their network cable is plugged into a wall jack, we have to make sure there are electronic devices that connect the computer to the rest of the world. These devices, called switches are infrastructure just as plumbing or air conditioning. Most people go about their daily work never even realizing what is happening behind the scenes, in all those mysterious locked closets.
Eventually, switches and other similar devices have to be connected together, different campuses need to talk to each other, and all of this needs to be monitored. There are close to a thousand such devices in the USF network. Some departments and colleges take care of their own switches, but even so they have to eventually connect to the campus backbone.
Tasks, from A to Z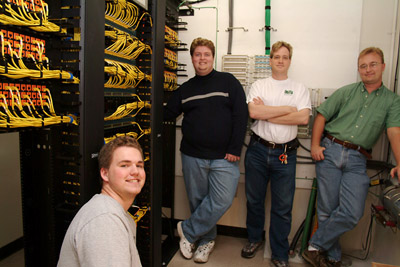 Our job begins with specifying standards for campus networks, and designing networks to meet these standards and customer requirements. In case of new construction or major renovation, we also interface with the architects and advice them about the best and most economical designs. To perform these duties competently, we keep up with the leading-edge industry developments, emerging standards, and make sure we are familiar with the full spectrum of products offered.
Once designed, we perform the actual physical installation of the devices, as well as firmware configurations. Finally, we make sure that any devices under our aegis are kept upt with the latest feature enhancements and firmware patches and monitored for operational problems. We also watch industry mailing lists for any security or bug alerts that may be announced.
In case of problems with the use of networks, we consult and support help desks and departmental administrators with pinpointing the causes, and fixing them.
Wireless
Information Technology Communications is also involved in implementing wireless access on campus. The radio spectrum is a limited resource, and without proper coordination different installations are bound to interfere with each other. Worse, improperly configured installations can expose the university community to hackers and other unsavory characters.
USF's Computer Network

USF has a computer network that covers practically the entirety of campus. Almost all faculty and staff offices and all residence hall bedrooms are served by switched, 100 megabit per second Fast Ethernet or Gigabit Ethernet full-duplex connections (meaning that you can send and receive data at the same time at a speed of a hundred million or a billion bits per second). The equipment serving desktop connections consists mostly of Cisco Catalyst and Foundry Networks switches.
Most facilities are wired compliant to Category 5 or Category 5e cable and wiring practices, with new buildings being built to Category 6 or 6a standards. Similarly, almost all buildings have fiber optic cable into wiring centers and internally to allow for high-speed connections to the redundant, double-starred 10 Gigabit per second campus backbone.
USF is connected to the Internet with redundant 500 megabit per second connections through Cogent and Time Warner Telecom as well as through Commercial Peering Service using our Florida Lambdarail connection, and to the Brighthouse Cable Modem network with a 100 megabit per second connection. We also have direct links to the USF satellite campuses and other local institutions.